Maria Island Brass Monkeys Swim Club
The Maria Island Brass Monkeys Swim Club (MIBMSC) is an exclusive club of 'unique' individuals that share two common traits – a love of Maria Island; and, a desire to better themselves (and the world they live in) by pushing their physical and mental stamina to the edge – well, maybe not quite that far…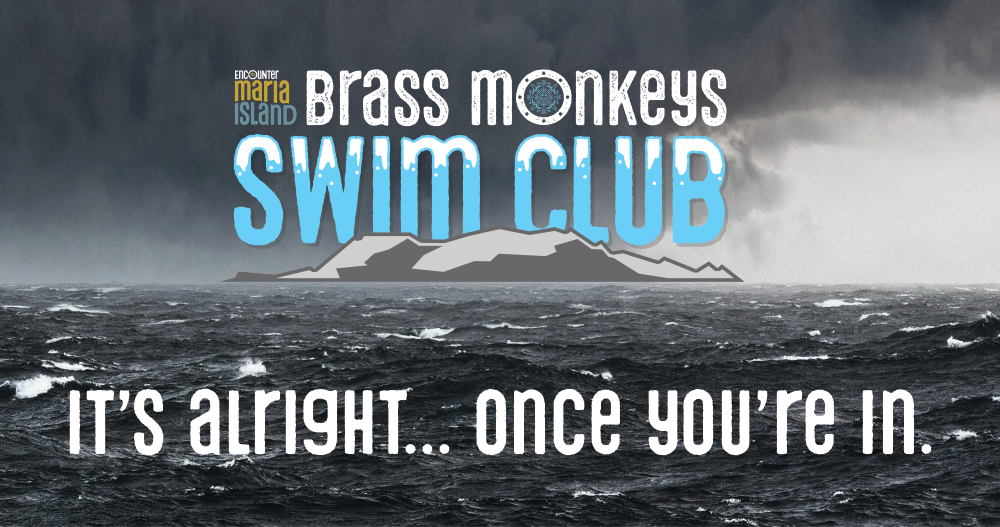 THE CHALLENGE
To fully submerge one's person under the surface of the crystal clear, brain-numbingly cold waters surrounding Maria Island on any given day during June, July or August, 2022.
For those already on the Wim Hof* wagon, this act of relative insanity may feel like a walk in the – national – park. For others, it's a rite-of-passage, bucket-lister challenge too nuts to ignore.
Either way, if you accept and subsequently succeed, you will be awarded life membership into the MIBMSC, along with various other perks, prizes and MIBMSC paraphernalia.
*Look it up, where have you been?
---
To become a fully-fledged, Maria Island Brass Monkey Swim Club life member:
Purchase a 'Plunge Permit' ($30) when you book your ticket online, from the Maria Island Gateway, or on board the Encounter Maria Island ferry prior to arrival on the Island. The permit comes with a towel, MIBMSC swimming cap and an expectation that you must now prove your worth on planet earth by completing the task. Please return the towel.
Find a suitable coastal location and plunge your entire person under the surface of the pristine, yet chilly water. Make sure someone is filming you or taking photos, because –
Provide photographic or video evidence of your encounter with mother nature's deep freeze, by posting it on Instagram with the following tags: @encountermaria #tassieoffseason #mariaislandbrassmonkey
Present your plunge permit along with the social media post – to crew onboard the Encounter Maria Island ferry – both must be sighted and endorsed on your return journey to mainland Tasmania in order for you to qualify for membership.
Upon approval, official life membership of the MIBMSC will be bestowed upon you at an official presentation ceremony (photo with whoever is floating around from the crew), and you will be presented with an official certificate, MIBMSC goblet (mug full of warming hot chocolate), a muffin, and an ear-full of congratulatory mumblings.
---
Other things to consider:
No, you can't wear a wetsuit!
Clothing is optional. But please be mindful of other visitors to the island when and if you decide to participate in the challenge wearing only your birthday suit. Timing is everything. Discretion is advised.
Extra kudos and special 'Brass Banana' life membership status will be awarded to those who complete the challenge when the 'feels like' temperature is less than 5˚C at the time of completing the task. Screen shot the BOM app as proof and include that in your Instagram post.
Encounter Maria Island and associated organisations are not liable for any injury, ill harm, or shrinkage that occurs as a result of participating in this questionable endeavour. Whilst the pressure is on to achieve, the challenge remains optional, proceed entirely at your own risk.
No refunds. Only looks of disapproval will be given to those that chicken out or can't provide the evidence required to substantiate challenge completion.
You can purchase a plunge permit during the online booking process. Get your Plunge Permit today!